Elizabeth Calsey House News
Read what's happening at Elizabeth Calsey House
August, 2013

Hello friends and family!

Fall is just around the corner and we thought it was a great time to send out our first official newsletter. We will now be sending out a quarterly newsletter to keep friends and family updated about what is new and exciting at our homes. We are one big family here and want to make our residents' love ones feel as connected and involved in their lives as possible.

These upcoming months we have a lot of exciting activities happening. At the residents request we will be having belly dancers come in and do a combined house performance. We will bring residents from Elizabeth St who wish to attend up to Lions Mouth Road for the performance. They have been here in the past and were a big hit among the residents. We have also been looking into new interactive ways for our residents to socialize while getting a little exercise. We have recently introduced them to the video game Wii! We started off with a simple game of bowling, but have confidence we will have the residents playing all kinds of Wii games in no time. They really seemed to enjoy it and were excited to be playing a game that is current with the time and geared for younger audiences. We were pleasantly surprised with the amount of residents who got involved and hope to have even more participate in the near future.

We always try to provide a great variety when it comes to meal time here at the Elizabeth Calsey House. All summer long on Thursdays we have been having cook out themed lunches. We even change the table settings to make meal time a little more festive. We always buy our corn locally at Bartlett's Farm and the residents voluntarily, enjoy shucking it. Being a small local business we look to support as many as possible.

This month we decided to spice things up even more with a lunch trip to the Hollow Cafe, located right here in Amesbury. The lunch trip will take place on Thursday September 26, and will be a combined trip of residents from both houses. We are always welcomed with open arms at the Hollow Cafe and are excited to go back! Their menu has a great variety of delicious, homemade foods and organic veggies for our residents to choose from.

Cider Hill Farm is another local business we love to support. With fall approaching we will be switching out our normal coffee social snacks for fresh cider donuts and apple cider; both locally prepared at Cider Hill Farm. For Halloween we will surprise our residents with plenty of spooky snacks and pumpkin crafts! Past years trick-or-treaters have always come to the homes to show off their costumes and were hoping to keep this tradition going this year.

This month at Lions Mouth road we will be begin some minor construction. We are redesigning the roof covering of the ramp entrance to our home, in hopes of better fitting the needs of our residents. Over the years both of our homes have undergone maintenance and construction in order to keep them as esthetically appealing and safe as possible.


Residents Corner
This is a chance for you to get to know our residents on a more personal level.
Meet Frances Dawes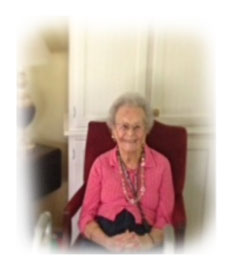 Born: August 21, 1920
Frances was born in North Reading, Massachusetts to Curtis and Helen Fairbanks. Frances had one sister named Emma, and was the younger of the two. She began her schooling in Acton an eventually moved to Melrose where she received her high school diploma.
"I've had a very kind and interesting life, my parents were very kind and loving. I listen to people my age and feel very grateful to have the life I have." Frances Dawes
As a young adult Fran had the desire to be a professional singer. Along with singing Frances had a great passion for books, and even ran the Acton Public Library for a few summers; before her and her family moved to Melrose.
Frances married Marshall Dawes and had three children Valerie, Sherri, and Marshall. She and her husband Marshall owned their own business, Dawes Engine Generator Service. Fran says she always enjoyed working with her husband because she was able to spend time with him and it kept her busy.
Currently Frances is one of the oldest living descendants of the Fairbanks Family, and the historical Fairbanks House located in Dedham, Massachusetts. The Fairbanks House is oldest standing timber house in North America. It was built by Frances's relatives sometime between 1637 and 1641. Fran always speaks proudly about being a part of such at historical landmark.
Frances has been a resident of the Elizabeth Calsey House for two years now. Fran's ever pleasant mood and laughter is contagious among residents. You can always count on her to put a smile on your face and she is truly pleasure to have.
"I have everything I could ever ask for, I am very happy living here" Frances Dawes
Upcoming Events
The Flu shot clinic for residents and staff will be held Thursday October 10th. If you wish for your loved one to receive a flu shot please see Jen or Tracy for a permission slip.
The holidays will be here before we know it! Our Christmas Parties will be held
Saturday December 7th @ Lions Mouth Road
Saturday December 14th @ Elizabeth St
Recent and Upcoming Birthdays!
Irene T September 6
Pauline L September 24
Sandy W October 1
Lois R October 2
Barbara L October 6
Lillian C October 16
~Your Friends at Elizabeth Calsey House