Elizabeth Calsey House News
Assisted Living Residence


HELLO FRIENDS AND FAMILIES...
Once again another season is upon us and flying by. The spring and Summer seasons have been very pleasant here at the Elizabeth Calsey House. We are always encouraging residents to get outside and enjoy the weather, along with keeping hydrated during the warm summer months. Hydration is a major factor in staying healthy, at any age and this season we have made it a goal to encourage nourishments throughout both our homes.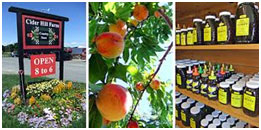 Summer is the season of warm weather, delicious fresh produce, and a plethora of cook outs. Every Thursday residents have a cook out themed lunch. They are served a variety of grilled meats and fresh summer salads. Being a local business we try to buy local goods as often as we can; and this summer is no different. We have been purchasing a variety of fresh produce from both Bartlett's Farm, and Cider Hill Farm. We thank them both for supplying us with healthy fresh foods for our residents.

We have had the pleasure of having Ms. Ashley Jeffers with us one day a week throughout the summer. Ashley has introduced the residents' at both homes to a variety of new and fun activities. With Ashley, residents had the pleasure of making homemade ice cream, painting, and a variety of other new and exciting things. Ashley is the daughter of our beloved Tracy, who will be having her one year anniversary as a member of the Elizabeth Calsey House family this summer. Tracy has been an amazing addition to our family and we thank her for all her hard work, love, and commitment.

Flu Shot Clinic
With fall just around the corner unfortunately cold and flu season will be too. We work hard throughout the entire year to keep our homes healthy, and work to find new ways to lessen the spread of germs and sickness. We ask anyone who is feeling under the weather to please postpone any visits to our homes; so we can keep our residents and staff as healthy as possible. On Thursday October 16th we will be having a Flu Shot Clinic. If you are interested in having your loved one vaccinated please alert management.

Kick Off To Summer Party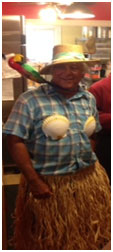 For our Lions Mouth Road Residents, friends, and families we had a lovely kick off to summer party. We unfortunately had to cancel our Christmas Party, but found this party to be a great success. All who attended sipped on frozen drinks, ate delicious Caribbean themed food, and sang along to the always entertaining Italian Serenaders. It has been a tradition for many years now to have the serenaders come and perform for our residents, and we thank them for sharing their talents with all of us.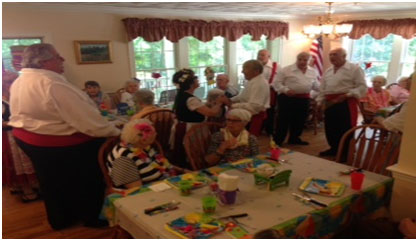 Construction Projects
Once again both of our homes have been undergoing a variety of construction projects. At Elizabeth St. the entire rear porch off of our dining room has been restored. We are in hopes that the material used to restore the porch will help maintain its condition. Often after meals residents enjoy sitting on the porch relaxing, and watching the birds. Also at Elizabeth St we are in the process of replacing ten windows. The new windows will be more functional and act as better insulation during the cold winter months. Lions Mouth Road is also undergoing some repairs. The side porch, along with roof has been redone. The entrance way to the porch was widened making it more accessible for all residents to enter and exit the porch. Between the numbers of cars constantly coming and going and the long snowy Winters our Lions Mouth Road drive way could use some love. The entire drive way will be paved and sealed in the beginning of September.


Meet Our Residents "Ethel" Marie Moore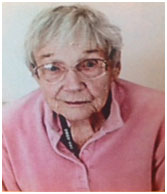 Who we know and love as Marie. Marie was born in the state of New Jersey on September 1, 1922. She was an only child born to parents Harold and Mable Moore. After losing her mother at the age of twelve Marie's father Harold sent her to live with her aunt. The transition from being an only child to the sixth, in an already family of five was a challenge for Marie. After about a year she returned to live with her father. Marie's father remarried a woman also named Ethel. Ethel was a kind and loving woman who now had the opportunity to play a motherly role in Marie's life. Marie said the two had a great relationship and she was happy to have had her in her life.

After graduating high school Marie worked as a secretary in two church offices. During her young adult life she lived in different parts of New Jersey; eventually traveling her way up to coast living in New York, Connecticut, and Massachusetts where she remains today. At the young age of twenty-one she met her husband; seven years her senior a man named Sherwood. Sherwood worked on a golf course in New Jersey, and was eventually drafted into the service. Sherwood traveled overseas with the air force as a meteorologist. During the years Sherwood was gone Marie lived in New Jersey and eventually became a secretary at Rutgers University. When Sherwood completed his time with the service he returned home to New Jersey to be with his bride, and went back to his work on the golf course.

Together Sherwood and Marie had three children, Sherry, Carol, and Glenn. Today Sherry lives in Massachusetts, Carol in Hawaii, and Glenn in New York. All three children were born in New Jersey, but eventually Marie and her husband moved the family to Westchester New York. The moving didn't stop there. In the 1980's once their children were grown Marie and Sherwood found their way to Brewster, Cape Cod. Sherwood began consulting for golf courses which led the couple to travel around the country; leaving their permanent home in the Cape often.

Marie says her husband never really retired. Consulting around the United States was just the beginning of Marie and Sherwood's travel adventure. Sherwood joined as a volunteer for the International Executive Service Corps. As a member of the International Executive Service Corps Sherwood was sent around the world to maintain and assist in starting up new golf courses; and luckily for Marie she traveled right alongside her husband.

Throughout their travels the couple lived all over Africa. Marie says she absolutely loved Kenya and especially its people. They traveled everywhere from Egypt, to Morocco, to an island in the Indian Ocean called Mauritius. Both Marie and Sherwood had experienced a lifetime traveling the world, and it's an experience Marie says she is extremely fortunate to have had. Once their traveling ended, the couple lived in Connecticut. Soon after losing her husband Marie moved to Massachusetts so she could be close to her daughter Sherry. After living some years at another facility Marie made the decision to come join our family here at the Elizabeth Calsey House. Today she is proud to say she has five grandchildren and three great-grandchildren, and is happy to have lived such a fulfilled life. Marie has been a great addition to our family, and we are all so happy to have her and learn about the amazing adventures she has had.

Residents Birthdays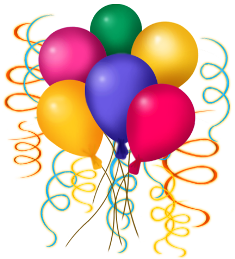 Lillian S August 3

Rose August 16

Frances D August 21

Wendell H August 22

Marie M September 1

Irene T September 6

Dick P September 8

Jane N September 22

Mary M October 1

Sandra W October 1

Lillian C October 16

Stewart F November 4

MaryAnn K November 7

Giving Back
My dear friend Graham Hart is overseas doing his second tour. We thought it would be nice to have the residents make cards to send him and his troop thanking them for their dedicated service to our country. Elizabeth St. made cards this past week and we plan on doing the same at Lions Mouth Road next week!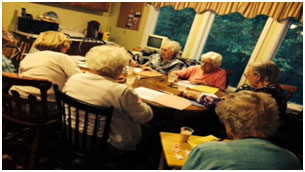 Hope you all enjoyed the newsletter! Till next time :)




Contact Us
Elizabeth Calsey House
15 Elizabeth Street
Amesbury, MA 01913
(978) 388-0293
To adjust your email preferences or unsubscribe from receiving such emails in the future,
click here
.