Elizabeth Calsey House News
Assisted Living Residence


Hello Friends and Family of The Elizabeth Calsey House
Another winter has come and gone; at least we sure so hope so! Spring has sprung and we couldn't be happier here at the Elizabeth Calsey House. We hope you all had a happy and healthy holiday season. Thanks to the cooperation of our staff and all of our visitors, we were able to keep our homes almost completely healthy during cold and flu season. Our goal is to always keep Residents as healthy as possible during the cold winter months and we are now ready to open up the windows and let some fresh air inside!

We have had a lot of exciting things going on over the last few months here at The Elizabeth Calsey House. As you all know the winter was a tough one but we got through it! Thanks to all the staff that stayed late and went above and beyond to make sure our Residents were taken care of during all of the winter storms. Also big thanks to Peter and Paul for making sure our driveways and walk ways were safe for all staff, Residents, and visitors. We had some slight damage at our homes do to the heavy amounts of snow, but luckily all damage was repaired as fast and efficient as possible.

St. Patrick's Day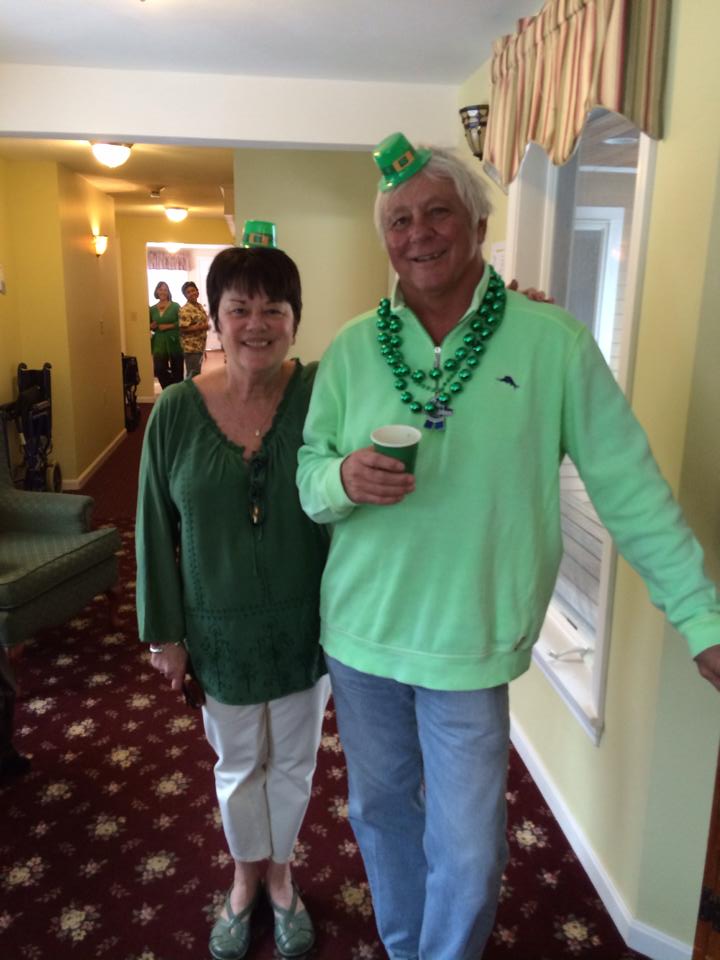 This March we had some wonderful St. Patrick's Day festivities at both our homes. Residents made beautiful St. Patrick's Day crafts in preparation for the holiday. On St. Patrick's Day we dressed in green, nibbled on green treats and indulged in delicious green punch. Residents also took part in a St. Patrick's Day sing along, as well as games and trivia. As the tradition stands here at ECH, Residents dinned on our legendary corn beef and cabbage dinner, and if I am not mistaken almost every single Resident ate and highly enjoyed!

The weekend before St. Patrick's Day we were fortunate enough to have the Bracken School of Irish Step Dancing come and perform for the residents. They put on a beautiful performance for our residents and they cannot wait to have them again next year.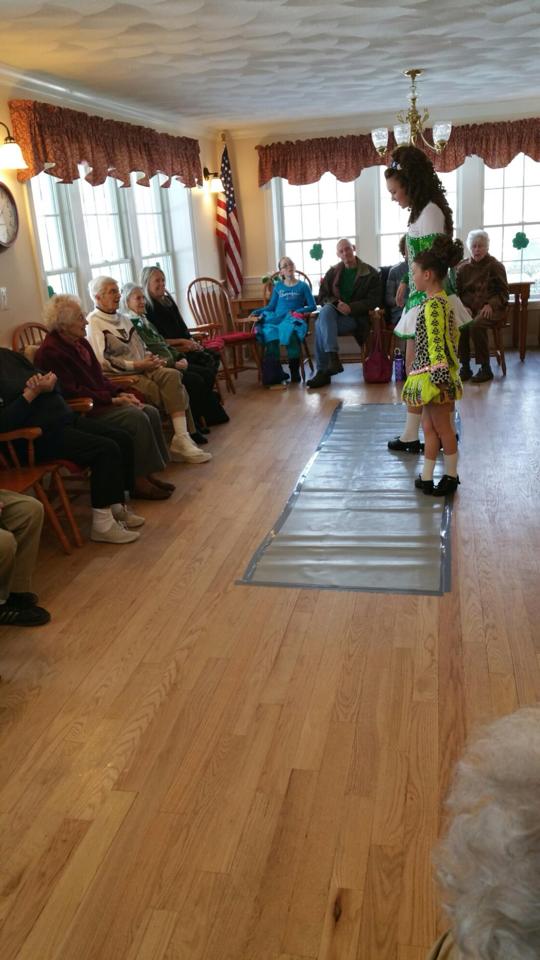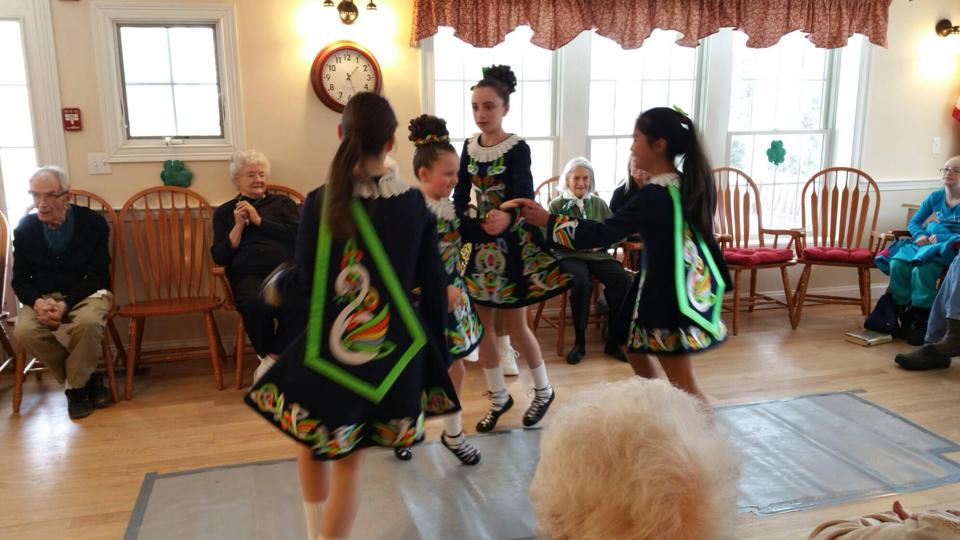 Gary Sredziendski, Entertainer
We had the pleasure of having a new entertainer come and perform for our Residents. Gary Sredziendski is a well-known accordion player in the area and fortunately for us he was able to make time to visit and perform at both our homes. He brought a multitude of accordions and had a story to go along with each one. He told residents how he got started and really engaged residents throughout his entire performance. We are thrilled to say he will be coming back very soon and the residents are extremely excited... Thanks Gary!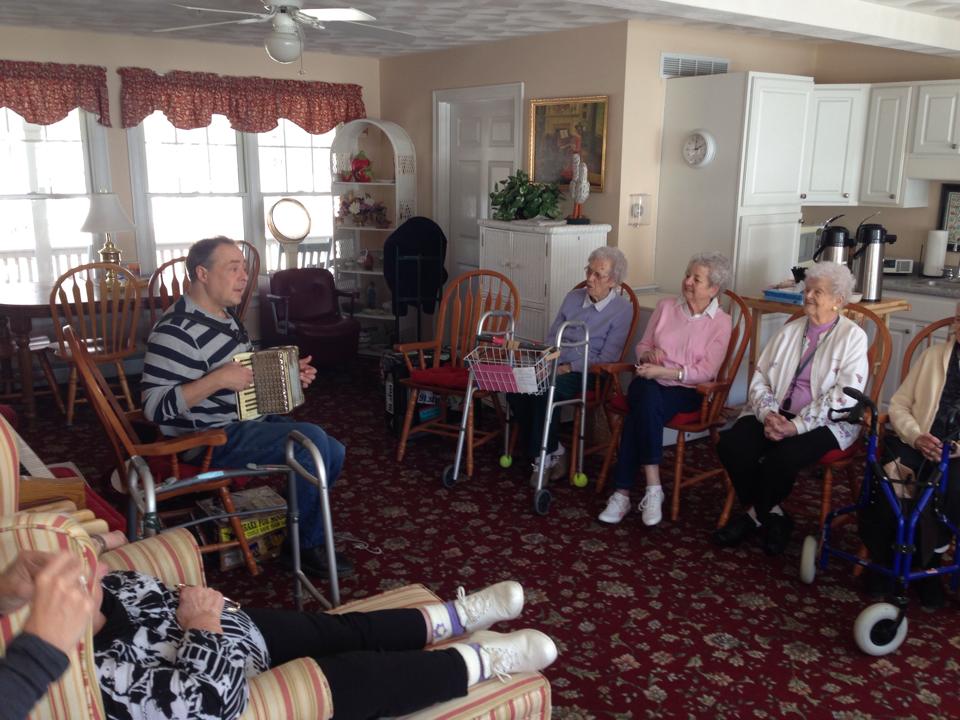 Dolores Jones's 100th Birthday!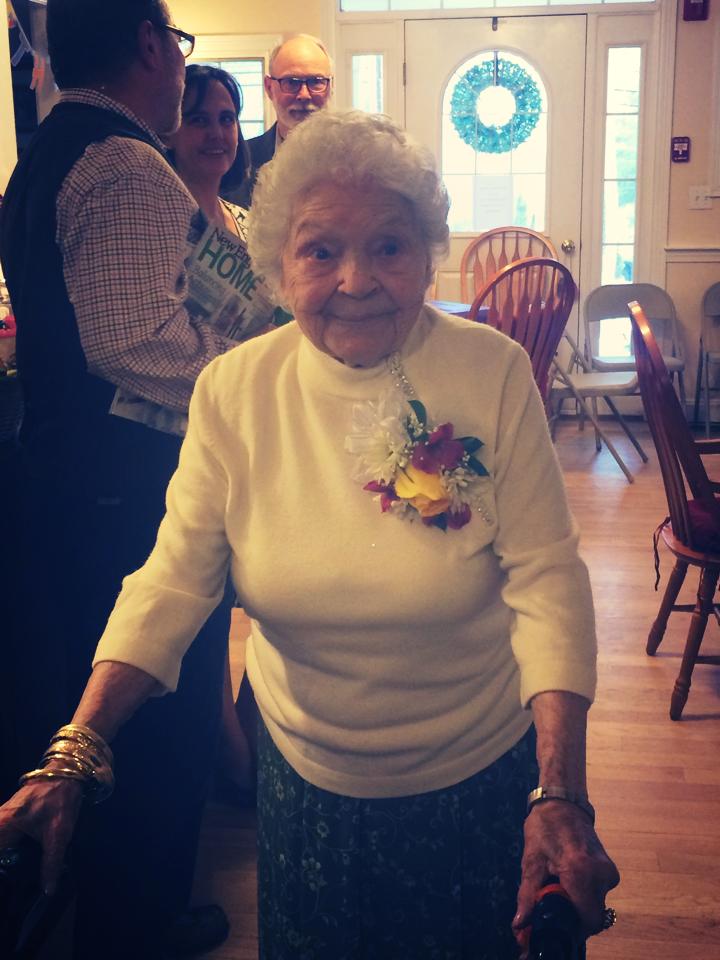 On March 27th we had the pleasure of celebrating our Resident Dolores Jones's 100th Birthday! Here at the Elizabeth Calsey House we love a reason to throw a party, and this was reason indeed! We invited Residents, State Representatives, the Mayor, the President, Mickey and Minnie Mouse along with many more respected figures of society. Although not all could attend we want to thank everyone who did, and to who sent cards and certificates to Dolores. It was a joyous day for Dolores, along with everyone who attended. 100 years on Earth is something to be extremely proud of and most certainly acknowledged. We thank Dolores for always being a loving and kind Resident and we wish her a very happy 100th year!

A very special thank you to our staff member Jennifer Katsoulis for making this beautiful display in honor of Dolores. The display is decorated with pictures of Dolores and her family. It also displays exciting people and events that occurred throughout the last 100 years!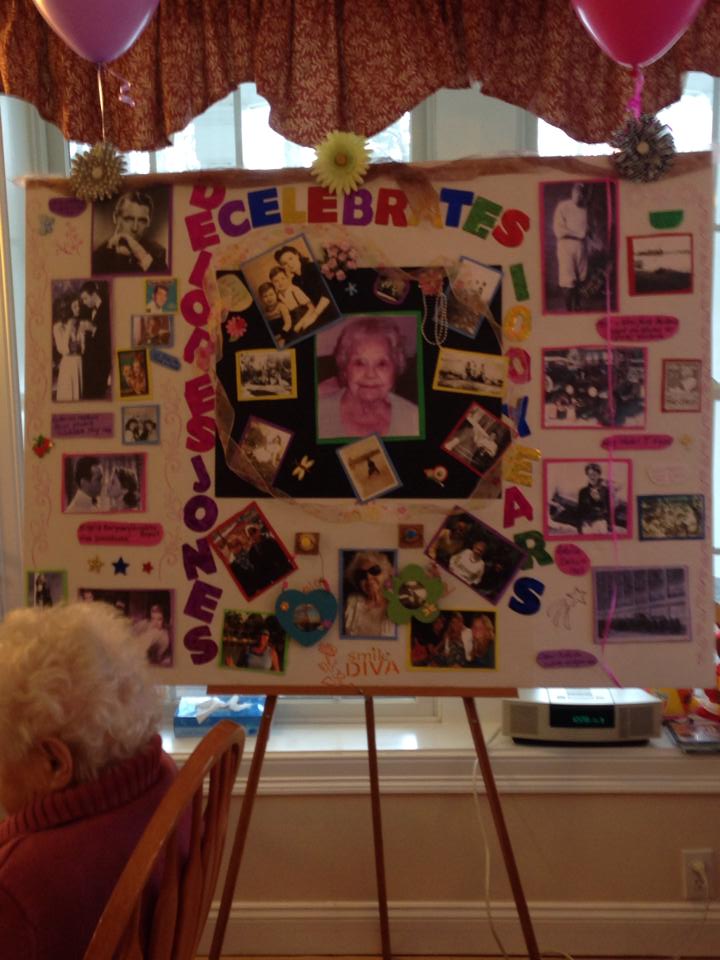 Dolores Jones was the oldest of 11 children. Her father died while she was very young and her mother remarried, so most of her siblings were stepbrothers and stepsisters. Today she has one sister still living. Dolores was born in Dongola, Illinois, and lived in Kentucky and Tennessee as a child. She was born during the Great Depression so like most families Dolores's didn't have much money. Dolores was closest to her grandmother who lived with the family much of the time. They all liked to sing and to this day music has been very important to Dolores.

While living in Tennessee, a powerful tornado struck, completely destroying their house with the family inside. Miraculously, all survived with mostly just cuts and bruises except Dolores's Mother who sustained an injury to her back when a large beam fell on her. Dolores remembers being under a table, which saved her. They lost everything they owned.

Dolores worked from an early age. She hand rolled cigars and picked cotton. At age 14 she worked at a factory sewing men's shirts. She married at 18 and moved to Michigan where her husband Harold Jones worked in the automotive industry before establishing his own automotive shop. They were forced to move back to Tennessee to live on her father's family farm due to the struggling economy (it was still the Depression). Even with this set back, Dolores was determined to get out of the South once again. She began raising chickens and sold egg. In time she was able to bring her family, which now included a son back to Michigan. For a while she worked at Fisher Body Plant in Pontiac, Michigan, sewing tabs on car sun visors.

In all Dolores had four children, two boys, and eleven years later two girls. As time passed Dolores realized her dream of designing and building. She did most of the finish work on her family's house on Otter Lake in Waterford, Michigan. To earn money, she fixed up and rented two other houses which the family owned. Dolores liked to collect antiques, often buying pieces of furniture to refinish or reupholster. She used many of the pieces at her home on Otter Lake.

Dolores's husband didn't like to travel very much. She would often go to Quebec with a friend and her children. Dolores also went on a cruise to the Bahamas, and various other trips around the country visiting family and friends. When her husband retired, they bought a small place in Florida, where they spent several weeks a year.

Dolores has always been a voracious reader of non-fiction, and a lover of all animals. Her house was a regular stop for stray cats on their rounds. In addition to four children, she has nine grandchildren and three great-grandchildren, most of who live in Michigan.

*A very special Thanks to Dolores's daughter Tempa for providing us with all the above information, and allowing us to share her Mother's incredible story with the Friends and Families of the Elizabeth Calsey House.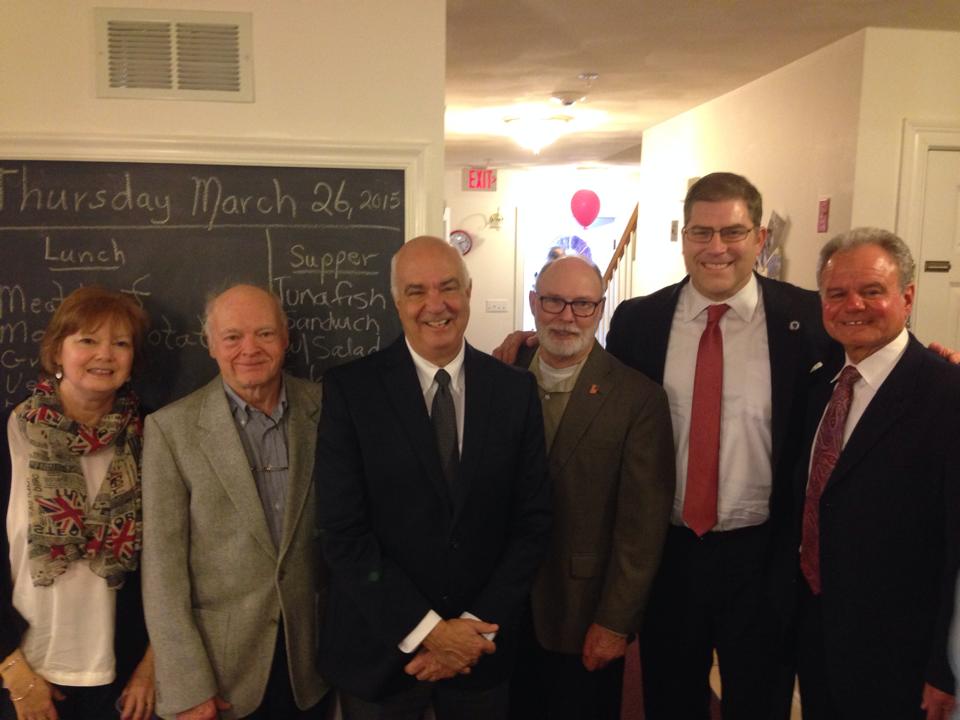 We wish all the Friends and Families of The Elizabeth Calsey House a happy Spring and Summer season, and we hope to see you all soon! We treat all your loved ones like they are family and we truly thank you for entrusting us with their care.



Contact Us
Elizabeth Calsey House
15 Elizabeth Street
Amesbury, MA 01913
(978) 388-0293
To adjust your email preferences or unsubscribe from receiving such emails in the future,
click here
.